4 Google Meet features help you make professional video calls
Over the past few weeks, Google has introduced new features in the video conferencing service (Google Meet), to facilitate communication and remote work for users, as remote work has become increasingly necessary for public safety more than ever, due to the Corona virus.
Since the beginning of this month, any user with a Gmail account can host high-quality video meetings with up to 100 people for free, after Meet has been restricted to companies and educational institutions in the past only.
Google is relying on the development of Meet service features on artificial intelligence technologies (Google AI) to improve meeting quality and user experience, and some new features have already arrived to users, while other features, such as (Noise Canceling) that Serge La Chapelle introduced to Lachapelle – G Suite Product Manager – Demo yesterday.
Here are 4 features in Google Meet that help you make professional video calls:
If you need to share high-quality video with audio in Google Meet, you can use the current Chrome Tab feature, which allows you to share audio in this tab automatically.
When you use this feature with video content playing, everyone in the meeting will see the video and hear the audio too, which means you can use videos, animations, animations and other media in your meetings.
Situations where you may benefit from high-quality video and audio in presentations include:
Business meeting to review promotional videos.
A meeting to share pre-recorded product offerings.
The teachers share the videos as part of the student's lesson plan.
Slideshows in presentations with embedded videos or GIFs.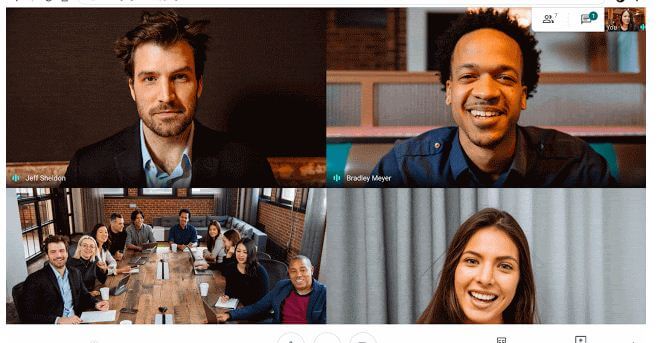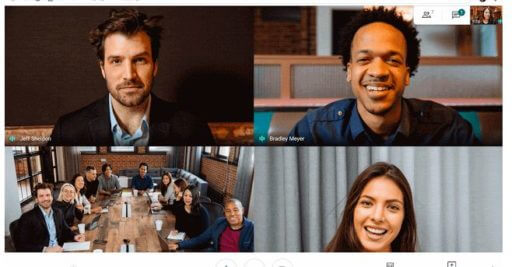 2- Low-light mode:
Low-light mode relies on artificial intelligence technologies to automatically adjust video lighting; So attendees can see you clearly in poor lighting conditions.
Google Meet now optimizes video lighting automatically to adapt to low-light conditions, so you can place a video call anywhere, even with low-light, using Android phones and the iPhone.
Video optimization begins 5 seconds after entering the low-light area, as Meet adapts intelligently to changing lighting conditions.
3- Layout of screen division according to the number of participants for large calls:
The new extended format in Google Meet allows web version users to see up to 16 participants at the same time, instead of seeing only 4 people.
You can use this layout with large task force meetings, virtual classrooms, or any other large meeting that requires you to see and communicate with multiple participants simultaneously.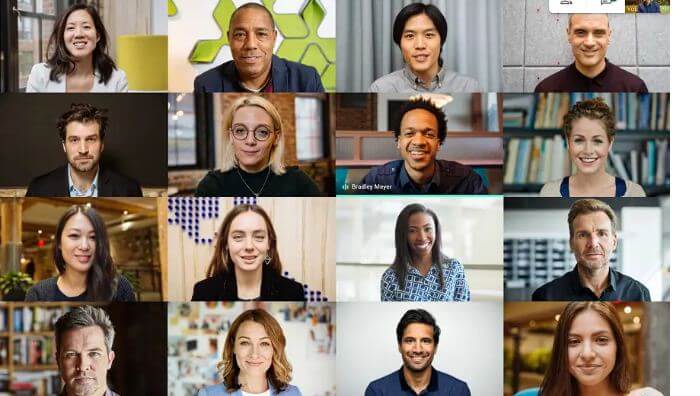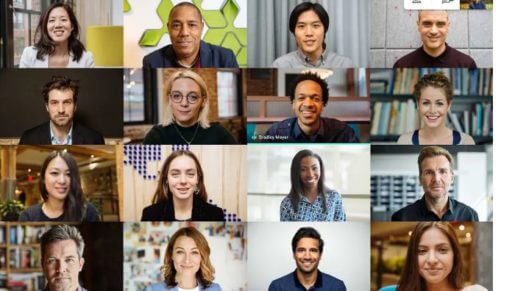 4- Noise Cancellation:
To help reduce interruptions during meetings via Google Meet, Google offers a noise cancellation feature that filters out distracting factors in the background, such as: a child's voice, dog barking, or keystrokes while taking meeting notes.
This feature relies on artificial intelligence technologies to cancel external sounds that may occur during a call, as sounds are handled safely during calls on Google's servers, and encrypted during transit so that no one can access them.
The VentureBeat report indicated that Google had been working on this feature for about a year and a half, using thousands of its own meetings to train its AI model.
Google plans to add the noise canceling feature to the web version of the service later this month, then to implement it on Android and iOS.