Apple Watch will wash your hands for 20 seconds
Apple Watch will ensure your hands are washed well now, as Apple unveiled the new operating system (WatchOS 7), at (WWDC 2020) today, as one of the new features looks a little childish, but it may be very beneficial for both your health and your community. This feature is called (Auto Detect Hand Washing), and this feature starts after a 20-second countdown when you notice that your Apple Watch is washing your hands.
The CDC recommends that you wash your hands with soap and water for 20 seconds to prevent the spread of the disease, and this practice has entered into the keynote speech in an attempt to stop the spread (COVID-19). Apple's handwashing comes just in time to encourage people to follow general health tips.
Through motion detection, sound, and machine learning, Apple Watch should be able to know when to start washing your hands, because this will start the 20-second countdown, which appears on the face of your watch in fun animations, and if you stop washing your hands before time runs out The watch will ask you to continue, and once you reach your goal, you will receive a greeting that says (Well done).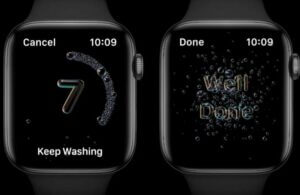 Apple Watch will also track hand-washing stats in the Health app, showing both frequency and duration, depending on how to wash you are.
Automatic hand wash detection is something users must enable in order for Apple Watch to allow activity and set a hand wash routine.
Apple likes to say: Its watch is the ultimate guardian of your health, now with the automatic hand wash detection feature, it not only protects you but also society from germs and slow, poor washing habits.