Download 9Locker
Computer screen lock program with the pattern like the phone
A wonderful program that makes you open your computer through the pattern or the so-called inscription, such as mobile phones and this is a suitable change to open your device and also through this program you can open your computer via the password in case you forget the pattern in any case
9Locker offers a new and fun way for you to lock your computer.
Before using 9Locker, you have to set your lock pattern.
The next time you will see a screen lock, you can track your mouse in a pattern that you drew before and it will unlock your computer.
9Locker can lock the whole computer. 9Locker Lets you choose custom photos for the lock screen.
9Locker allows you to set an alert mode when an incorrect pattern entered a maximum of one time. Features: mail notifications, intruder capture web camera, alarm sound, touch screen support, multi-screen support <p> What's new in this version:
9Locker is a free application for Windows, from which you can lock your computer screen using patterns instead of passwords.
Program Advantages
Support for computer touch screens.
Email notifications when login fails with video webcam recording.
Sound alarm after entry failure, change of wallpaper.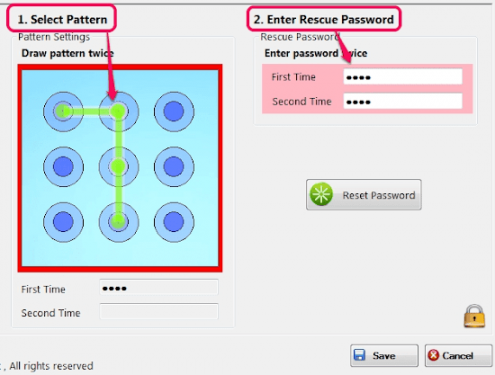 This free program is installed on your computer, and open the user interface from the desktop icon. While opening the interface for the first time, you need to adjust the settings so you need to draw a pattern on the space required by placing a screen lock shape.
After drawing the pattern, you will be prompted for a backup password, in order to unlock your computer, if the pattern is forgotten by you.