PhotoSync Companion to transfer files from computer to iPhone
PhotoSync Companion software to transfer photo and video files to iPhone and iPod over Wi-Fi by drag and drop
You can drag and drop videos and photos into a special area of ​​the program so that files transfer over Wi-Fi very quickly to iPhone (iPad) and iPod, and you can also do the opposite. Transfer photos and videos from iPhone, iPod and iPad to computer. PhotoSync Companion has a simple and easy-to-use interface,
It automatically applies the file transfer area when opening photo and video folders on a computer, where you can use the system to drag and drop the image and video files on the specified area to be transferred to the Apple devices we mentioned earlier at high speed You can also enter the program settings and customize the folders on the hard drive to receive Video and photo files from iPhone, iPod or iPad on a computer.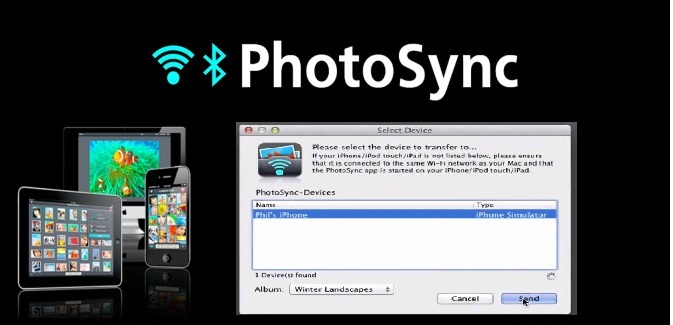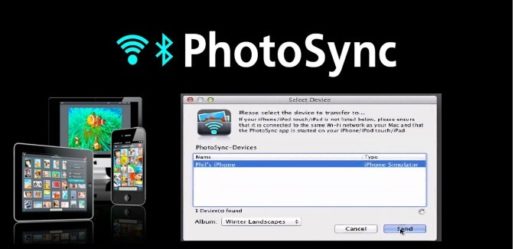 Photocompany provides you with a special icon in the system tray on the taskbar, through which you can access all the basic functions of the program, in addition to that you can select image and video files and right-click on the mouse, you will see a menu with the option to transfer files using the application (PhotoSync with Transfer) (The photos and videos you selected will be transferred to your iPhone,
You can make the program start working with Windows startup, and you'll notice that a special area of ​​the program is ubiquitous that contains pictures and videos, such as folders, desktop partitions, and hard drives, just drag and drop the region! That's all you need to do to transfer photo and video files to Apple devices.
Companion PhotoSync has been carefully designed and developed using Drop and Drag technology to transfer video and photo files from computer to iPhone, iPod and iPad over Wi-Fi, making it the easiest tool to use and reach both beginners and advanced users alike.
whether,
It does not require any computer experience to deal with it, the program is characterized by its quick response in transferring files to different Apple devices via iOS over Wi-Fi, and it also automatically monitors the iPhone and iPad devices connected to the computer via Wi-Fi, or you can make the connection manually in addition, The program is light and consumes a moderate amount of processor and memory,
You can now download PhotoSync Companion and use it on your computer to transfer photos and videos to iPhone and iPod over Wi-Fi for free for life.
Download PhotoSync Companion
4.0.1.0: The program has been released
3.07MB: size
License: freeware "freeware"
09/22/2019: Another update
Operating System: Windows 7/10/10 &
To download from a direct link, click here