Honor X10 Max specifications and features
(Honor) company officially announced that it will launch its latest phone called (Honor X10 Max) on July 2, after the launch of (Honor X10 5G) phone in China last month, and the company said: "After waiting for two years, here is the mobile phone with a large screen in Year 2020 ".
And information about the Honor X10 with a larger screen has been around for some time, and previous information stated that this device will use a large screen measuring 7.09 inches and supports color gamut (DCI-P3), with a large battery capacity of 5000 mAh.
According to the supply chain, the Honor X10 Max may be the first mobile phone in the world to support 5G networks with a 7-inch screen.
The Honor X10 Max is expected to provide the same user experience as the Honor X10, but on a larger screen.
Honor 8X had a larger version (Honor 8X Max) but it did not come out of China, while Honor 9X did not have a larger version, and Honor plans to release (Honor X10 Max) as a background for Honor 8X Max, which debuted in 2018.
The Honor X10 Max is supposed to come with a 7.09-inch screen with a resolution of 1080 x 2280 pixels, along with a (Dimension 800 5G) processor from MediaTek that supports the fifth generation networks.
There is a 5000 mAh battery that supports 22.5 W fast charging, an external speaker with microphone at the top of the device, and a scanner on the side.
The phone is available in three colors, black, blue, and silver, and other specifications include a 48-megapixel main rear camera, an 8-megapixel front camera, and an Android 10 operating system with a user interface (Magic UI 3.1.1).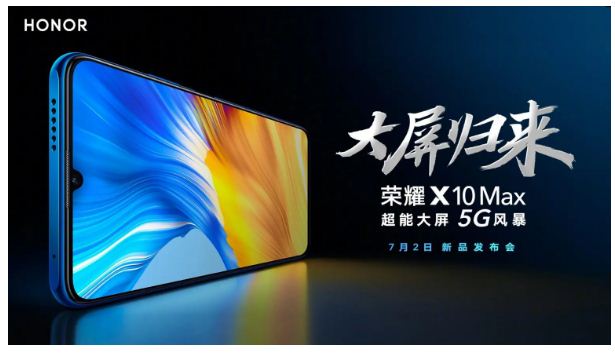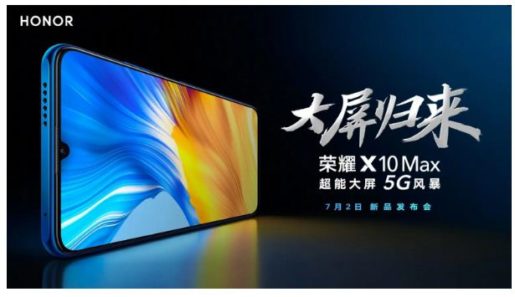 It should be noted that the official poster of Honor X10 Max also confirmed that it will use the water drop design of the front camera.
Zhao Ming, Head of the Honer Business Unit on Mobile, confirmed last week via Weibo, the Chinese blogging platform, that he will keep promises of big screen products two years ago.
He said: "I promised you in 2018 that there will be products with large screens in two years, and the transition from (4G) to (5G) has faced many challenges in planning the product, and I am very happy to fulfill this promise in time."
Honor and Xiaomi were the main players in this field previously, but Xiaomi announced last year that it has no plans to produce a large screen phone, and there is no news at the moment about phones with a large screen, so (Honor X10 Max) is currently the only phone that supports Fifth generation networks for the big screen in 2020.