How to Delete Instagram Search History
If you have had an Instagram account for a long time, you may have done thousands of searches in the app to find some pictures or other accounts.
Therefore, it is important that you check your search history data from time to time to delete some individual searches, or your entire search history.
How can you delete search history in your Instagram account?
Note: Once you delete your search history, you will not be able to undo it, although you will find some accounts that you searched for in the past that appear to you as suggested results on your homepage.
First: How to delete application search history:
Head to your Instagram profile.
Click the three lines grouped in the upper-left corner of your account.
Once the pop-up menu appears, click on the Settings option on the left.
Click the Security tab.
Click "Clear search history" on iPhone or search history on Android phone.
This option will take you to all recent searches, where you can click on the Clear All option in the top right.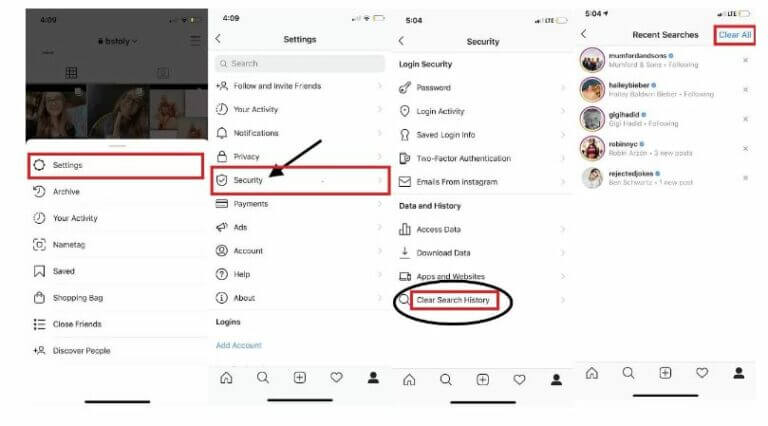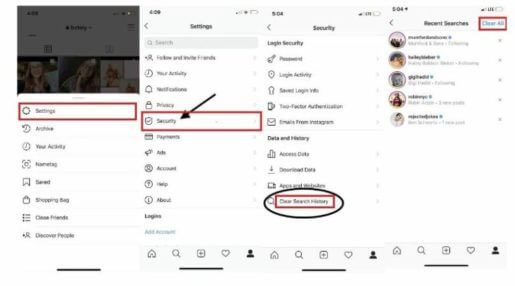 If you do not want to delete the entire search history, you can choose to delete specific parts of your search history, such as: the accounts you have searched for only, by clicking (X) next to each account you want to delete.
Second: How to delete search history in a web browser:
The way to access your search history is different if you use an Instagram account in a web browser on a computer or phone, and delete your search history in a web browser, follow these steps:
Go to instagram.com in a computer or phone browser.
Click on your profile picture in the upper left corner of the screen.
Click the (Settings) icon.
Click the Privacy and Security tab.
Scroll down and tap Show account data.
On the Search History tab, click View all.
Click Clear search history.
To confirm, click Yes, I'm sure.
And remember: Even if you delete your search history, you will still see the accounts you searched for as suggested searches when you go to the Instagram search option, and these suggested accounts may change over time, if you start searching for other accounts.