Sharing the internet connection on an iPhone with another device
The hotspot setting lets you share your internet connection via cellular data for your iPhone or iPad (Wi-Fi + Cellular) with other devices, when you don't have a Wi-Fi connection.
If your Apple devices are signed in to the same iCloud account, sharing iPhone internet connection is very easy, and there is no need to enter a password.
But if you are sharing the internet connection with another person's iPad or Mac, Android phone, Windows device or Chromebook, you will need to broadcast your network.
Here's how to share your iPhone's internet connection with your other devices:
Firstly; How to set up a personal contact point on iPhone:
 Go to settings.
 Click on the option Personal contact point. Then activate it by pressing the scroll button next to it.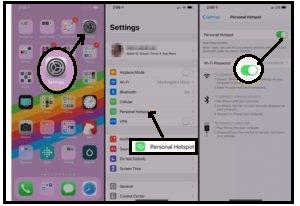 Enable allowing others to join by clicking the switch next to it.
Secondly; How to connect another device to a personal hotspot:
If you are sharing the internet connection with another Apple device that uses the same iCloud account, all you have to do is go to (Settings) on the other device, and choose your iPhone name in the Wi-Fi menu.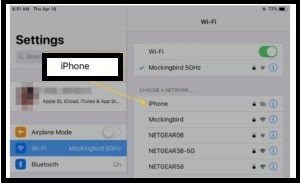 However, if you are sharing communication with someone else's device, or a device other than Apple, you can follow these steps:
 On the iPhone from which you will share the call, make sure that the "Allow others to join" option is enabled.
 On the other device go to (Settings), and from the Wi-Fi menu, choose your iPhone's name from the list of available networks.
 You will be prompted to enter a password on the other device, enter the password shown in the iPhone's personal hotspot settings.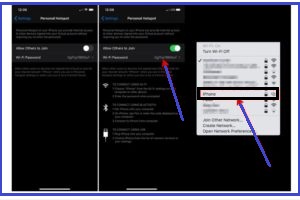 Once the device is connected, the status bar will turn blue, and the number of connected devices will appear. The number of devices that can be connected to a personal hotspot at one time depends on the carrier and your iPhone model.
You can also connect to a personal hotspot using Wi-Fi, bluetooth, or USB, but these methods will be a little bit slower.
To communicate via bluetooth; You will need to pair your iPhone with the other device via Bluetooth, then connect to the network. Likewise for a USB connection, you'll need to connect the iPhone to the other device with a Lightning to USB cable, then connect to the device directly in Network Preferences.
You can also set up "Family Sharing" to automatically share a personal contact point with anyone in your family without entering a password.
When you are finished using the internet connection, you can simply turn off the connection on the other device, or if you share it with others, turn off the personal hotspot on the iPhone.