The famous conversations app WhosHere
When we talk about popular chat programs for phones, we will mention this app WhosHere, phone users, whether iPhone or Android, should get to know this app WhosHere, this app that provides a lot of advantages, and also has some great additions, this application uses a lot of conversation lovers Getting to know each other is where everyone is allowed to meet people who are close to their region, and in this article we will learn about some of the benefits that WhosHere offers us.
WhosHere relies on adding new features, it also provides communication between others around the world, relies on communication and acquaintance with new people, the people closest to you appear geographically, and you can create new friends around the world.
This application provides many great advantages, namely:
Send the photo with unlimited number.
Send unlimited messages
The ability to prevent unwanted people
Looking for friends, men and women
Meet new people from all countries
Paid services and benefits:
First, the app is free
Second: It provides some paid services if you want other benefits that you can get, for example:
Completely block ads.
Adding your account ID makes it more attractive.
Send some stickers inside messages to other people to increase bonding.
Also, you get 4000 points that allow you to do different things.
Double your search results by showing more other users when searching.
You can also be the first to see new users
You can also keep messages for an entire year.
Other advantages of WhosHere: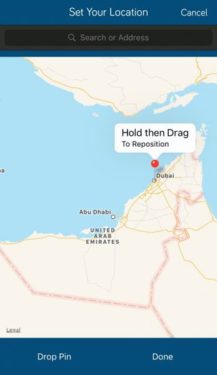 High-quality voice chats.
Increase the chance to meet the right people.
Full privacy,
People cannot access your data.
Select the data that's right for you, for easy access to the people who share it with you.
Permission feature, to specify who you want people to call you or send pictures.
Relevance:
It works on iPhone, iPod-touch, iPad and Android devices.
OS: iOS 8.0 and later versions for Apple / or Android 4.0 devices and later versions for Android devices.
Suitable for everyone.
"Application news" advice about this app:
Among the most well-known chat, dating and dating apps, it features premium professional features.
Download the app for iPhone:
Programmer: WhosHere, Inc
Courtesy
Download for iPhone: here
Android Download: Click here