How to reduce data consumption in Snapchat
Snapchat, like the rest of the social communication applications, consumes data in a large amount, as it contains many videos and images, so it enforces your internet package if you are somewhere and browses inside the snapshot, and I saw one of the friends inserting a video and watching it through the mobile data, it will allocate a lot of Your data, unlike you open the video with Wifi
Fortunately, Snapchat app launches a very useful new feature for those who use mobile data while opening the application to maintain the Internet package
Snapchat enabled travel mode feature, which allows you to activate it by preventing stories and videos from downloading automatically, and you can view it later when you connect to the Wi-Fi network
How to activate the Snapchat travel mode feature
First, open the Snapchat app
Scroll down to open the "Menu" menu.
Click on the gear on the right side of the screen to enter Settings
From this menu click on Manage
Then, turn on "Travel Mode".
Photo steps to activate the travel mode feature
Open the Snapchat app and click on the Settings tab (gear) as indicated in the following image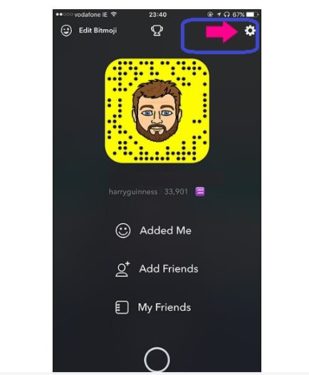 Then go down to this menu and choose Manage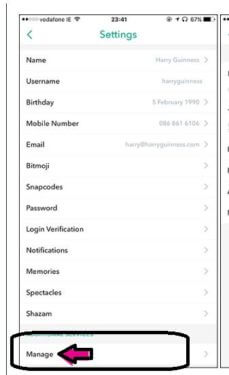 Activate the Travel Mode feature as shown in the following image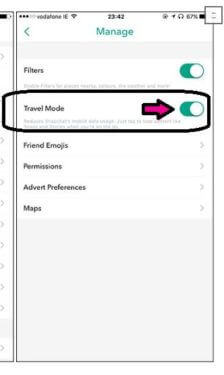 Here this feature has been successfully activated and the phone data can now be used without worry or losing a lot of the package until you open Snapchat again, through your connection to your Wi-Fi networks, to download all videos and stories whenever you want.